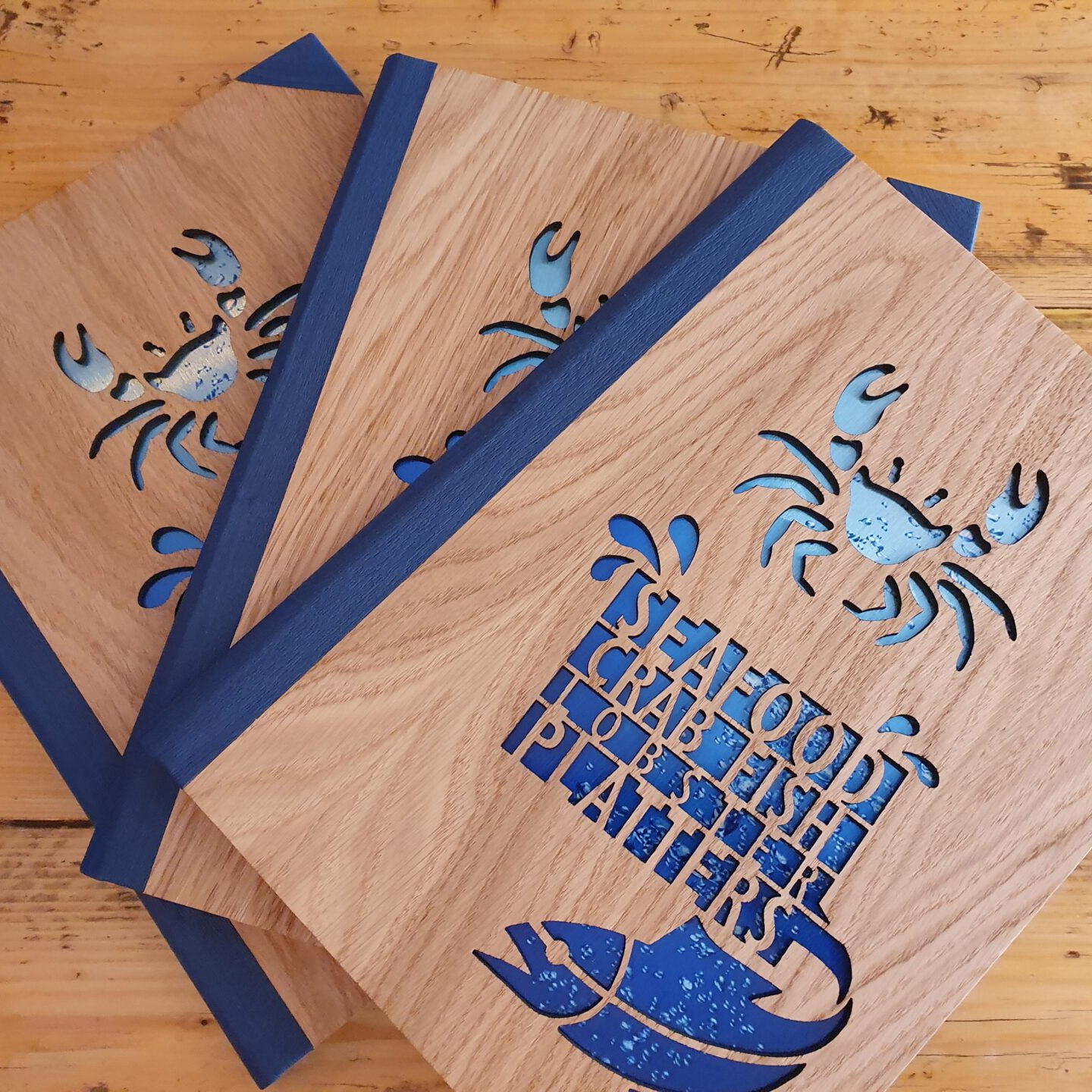 Monthly Menu – 24th November until 6th January 2024 then we close for our winter break until 13th February.
Please be aware some dishes may sell out due to popularity and we may not always have Crab and Lobster available if the Fisherman are unable to go to Sea due to bad weather or we sell out due to their popularity. We may be called the Crab House, but this is just a name, and we are ultimately a Seafood and Fish Restaurant.
To bait your appetite……………….
Symbols applied to suit Allergens and dishes will be adapted accordingly ….. G = No Gluten, D = No Dairy can be adapted accordingly, and all other allergies can be catered/adapted for also, just let us know on booking.
Natural Southerland Brancaster Oysters with Shallot Vinaigrette (G, D)
Baked Southerland Brancaster Oysters with Garlic & Parmesan Butter(G)
All £3 each or 6 for £15 of the same style.
Try with a Callooh Coastal Gin with Seaweed or a Bloody Mary Vodka Shot – Both £4.50 or a Glass of Champagne -£14.50 (175ml) or Winbirri Fizz £14.50 (175ml)
Smoked Eel: £5, (G, D)/ Roll Mop Herrings: £5 (G,D) / Chilli Oil Infused Manchego: £5 (G), Ciabatta & Focaccia Breads with Cold Pressed Norfolk Rapeseed Oil or our Flavoured Oil  & Balsamic: £5 (G,D) , Hot Lime and Chilli Dressed Crayfish Tails: £5 (G,D) / Cockles in Cider Vinegar: £5 (G,D) /Shell on Crevettes: £5 (G, D), Smoked Trout: £5 (G, D), Green & Black Olives: £5 (G, D) Smoked Mackerel : £5 (G, D)
Choose 4 for £17.50- All Cold from the fridge
Hook a Small Basket of Crispy Panko Crumbed Prawns with Sweet Chilli Sauce or Whitebait with Tartare: £6.50 (D)
Casting Off
Seared Scallops with Crispy Asian Pork Belly and Coconut Gel:  £13 (G, D)
Ginger Battered King Prawns with Sweet Chilli & Garlic Sauce and  Wasabi Crumb: £10 (D)
Port Cured Salmon with Beetroot, Caraway &  Goat's Cheese Bread and  Fennel Crème Fraiche: £10 (G, D adaptable)
Italian Style Baby Octopus with Olives and Crispy Pancetta: £11 (G, D)
Seared Pigeon Breast with Brandy and Blackberry Butter and Girolles: £11 (G, D)
Twice Baked Blue Cheese Soufflé with Celery, Grapes and Walnuts: £11 (V)
Starter Specials also available…….
Salads (D, G)
Our Salads are served cold except for the Lobster which is served warm with the butter melted.
Frary's Wells Dressed Crab: £20
Billy Ward's Garlic Buttered Lobster: Half £26 / Whole £45
Dressed Crab & 1/2 Lobster: £37
All served with a choice of Potato Side, Citrus Dressed Leaves, Homemade Pickles, Beetroot, Tomato and Bloomer Bread – (G, D)
Main Catch
Whole Market Fish Cooked in Herb Butter and Served on the Bone with Roasted New Potatoes and Green Beans: £POA (G, D)
Beer Battered Haddock with Handcut Chips, Dressed Leaf, Garden Peas and Tartare Sauce: £18 (D)
Hard Fried Red Snapper Fillet with Tom Yum Broth, Crispy Fried Noodles and a Beetroot Stained Egg: £20 (G traces, D)
Seabass Fillet with Lemon Fondant Potatoes, Fine Beans and Brown Shrimp Butter: £23 (G)
Local Holkham Venison or Fillet of Beef Wellington with Orange & Cranberry Mash, Roast Fennel and Cherry Sauce: £25 (Butcher availability dependant)
Artichoke,  Mushroom & Mascarpone Ravioli with Parmesan Cream, Wilted Spinach and Truffle Oil: £20 (V)
Main Specials also available……..
Seafood Platters
Our Cold Seafood Platters are designed to share with maybe an extra side but do come with Potato Salad and Citrus Dressed Leaves…. All can be adapted for Non Gluten and Non Dairy.
Crab Platter
Frary's Dressed Crab, Shell on Crevettes, Cider Vinegar Cockles, Crayfish Tails, Oak Smoked Salmon and Rollmops: For 1: £29 For 2: £41- Add 1/2 Warm Garlic Buttered Lobster: £19
Lobster Platter
Billy Ward's Warm Garlic Buttered Wells Lobster, Shell on Crevettes, Cider Vinegar Cockles, Crayfish Tails, Oak Smoked Salmon and Rollmops: For 1: £36, For 2: £65 Add a Dressed Crab: £11
The Bigger One (for 2-4)
Frary's Dressed Crabs, Billy Ward's Warm Garlic Buttered Wells Lobsters, Oak Smoked Salmon, Shell on Crevettes, Cider Vinegar Cockles, Crayfish Tails, Roll mops, Smoked Mackerel, Smoked Trout, Smoked Eel: £104 (if no Lobster is available then: £68 For 2 and £35 for 1)
**
Bucket of Handcut Chips :£5 (G -Traces)/Bucket of Bacon Dusted Fries :£5 /Side Salad :£5 /New Potatoes :£4 /Bucket of Plain Fries: £4, Bucket of Sweet Potato Fries :£4.50, Shallot, Horseradish & Dill Potato Salad : £5
To Reel It In – All £9.00
Apple, Blackberry & Sloe Gin Crumble with Vanilla Ice Cream or Custard (G, D)
Triple Chocolate Torte with Warm Dark Chocolate and Rum Sauce with Whipped Cream and Chocolate Shards (G)
Lemon Meringue Semifreddo with Lemon Drizzle Sponge, Calamansi and Citruscello Jelly (D)
Salt Caramel & Toffee Fudge Ice Cream Sundae with Salt Caramel Sauce and Salt Caramel Sponge (G adaptable)
Bailey's Cheesecake topped with Milk Chocolate Ganache and Dark Chocolate Sorbet (GF)
Plum & Frangipane Tart with Vanilla Ice Cream
Norfolk Cheeseboard (G) – £12 (Order at the start if you want one not straight from the fridge.
Selection of Norfolk Ice Creams & Sorbets from Ronaldo's and Dann's- £2 a Scoop (G, D)
Affogato :£4.25
Snappagato: £6.50 – Salted Caramel Ice Cream, Espresso Coffee and a Shot of  Black Shuck Banana & Toffee Schnappes.
Biscotti Biscuits to dip into a 50ml Tuscan Dessert Wine – Bonacchi, Vin Santo del Chianti 2010 – Amber in colour with intense, heady aromas of candied fruit and toffee. The palate is sweet, with balancing freshness and shows lovely complexity from the ageing, which delivers caramel notes with sweet, citrus fruits through to a deliciously long finish – £7.50
Please note – Our desserts change throughout the month and we a Vegan Puddings available.
Wells Crab House Children's Menu
Garlic Buttered Toast – £2 (G)
Crispy Fried King Prawns – £4.50 (D)
***
Cold Oak Smoked Salmon with New Potatoes & Peas :£8 ( G & D)
Cheese & Tomato topped Flatbread with Fries & Salad: £7.50
Breaded Chicken Goujon with Fries and Peas : £8 (G (Traces) & D)
Battered Fish 'n' Fries and Peas :£8 (Can be baked without Batter – (G, D)
Seafood Platter – Crevettes, Crayfish, Rollmop, Cockles, Trout, Fries and Bread: £11 (G & D available)
**
Chocolate Fudge Sundae – £4
Smarties Ice Cream Sundae with Chocolate Sauce – £4 (G)
Fish Jelly Sweets with Vanilla Ice Cream – £3 (G & D with Sorbet)
Fresh Fruit with Whipped Cream or Ice Cream – £4