Seafood Restaurant on the the North Norfolk Coast
Welcome to The Wells Crab House Seafood Restaurant….
As a Husband & Wife Team we have enjoyed creating years of experience in the hospitality industry across Suffolk and Norfolk and are now 'living the dream' of owning our own restaurant in Wells-next-the-Sea, the beautifully quaint and picturesque fishing town regarded as one of the UK coastline's finest treasures.
When taking on the premises there was a lot of discussion about names, but with our intention to offer a Seafood Restaurant and be clear in our offering of solely Seafood (mostly) and with Wells Crab's being so famous the iconic name that the previous owners created was a simple choice in carrying on their incredible achievements in creating our style of Restaurant after a full refurbishment to install a modern but nautical styling as the new Wells Crab House Seafood Restaurant.
We are a small, intimate and informal Restaurant with an ethos to create a friendly, relaxed and welcoming dining experience centred around beautifully prepared local and seasonal seafood dishes, with dishes developed from travels afar and seafood platters being a popular constant, although we will be offering a smattering of 'landlubber' dishes on our monthly menu and specials offering to make sure every taste is catered for.
For our talented Kitchen brigade using local is a top priority and we are proud to supply Crabs and Mussels from Andy Frary on his Andorra Star 2 boat, Lobsters from Billy Ward on his Malfreen Boat and Oysters from Richard Loose from Brancaster, with our Landlubber dishes coming from Award Winning Butcher Arthur Howell.
We regret that we do not accept dogs and we welcome families at lunches and evenings but we do not accept under 5's after 7.30pm for a booking, however we are happy to except sleeping babies.
We stagger our bookings and relay the early slots of 6pm and 6.30pm later and it is very important to let us know if you are running late as we only hold a reservation for 20 minutes. Do  let us know of your dining requirements on times and any allergens, for larger tables eight or more then we will require a deposit and a possible pre order.
We now offer a service were you can book by TEXT ONLY (no calls to this number please) to 07704286911 (your booking will only be confirmed when you get a reply)
We look forward to welcoming you for our Chef's ' Main Catch' …..
Kelly & Scott Dougal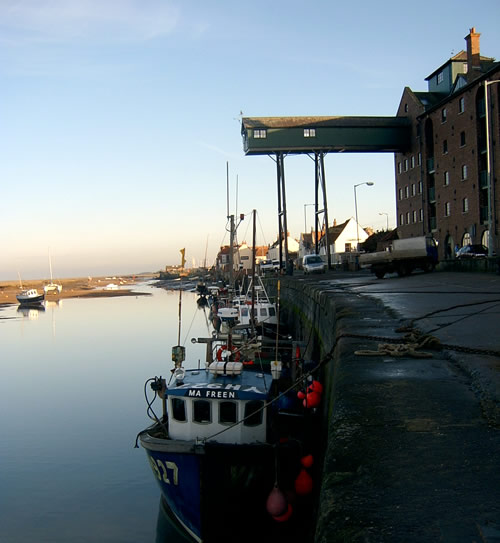 Armeria Bed & Breakfast.
Looking for a place to stay in Wells-next the-Sea?
Our Bed & Breakfast accommodation, Armeria, is ideally located to explore the North Norfolk Coast.
www.armeria-wells.co.uk
We recommend booking at Weekends as we do get booked up.... Book via ResDiary, Text or Phone. Always leave a message as we will get back to you.
Open Tuesday to Saturdays -Food Served 12-2.30pm & 6-9pm and 12-3pm on Sundays and open Sunday Nights on a Bank Holiday..... Always closed on Mondays.

The Wells Crab House is the perfect venue for a unique and intimate wedding or event that provides a warm & personal service that is one to one from start to finish.
Our wines have been carefully chosen for all tastes and price tags, making you're sure to find something you love. For each dish, we have a great wine in mind, do ask if you would like us to guide you through.